Knives & Knife Sharpeners
Total Knife Care is the Australian and New Zealand Importer and Distributor for the Nirey Electric Knife Sharpener range and I.O.Shen Mastergrade Chef's Knives.
Total Knife Care was born as a result of the frustration experienced by an amateur chef in finding an effective knife sharpening system for all kitchen knives.
It is a fact that most kitchens contain a selection of knives - sometimes accumulated over years - which lay in a drawer- blunt, unusable and unloved! Total Knife Care believes that before buying an expensive new knife, you look at your sharpening method. More About Us
Latest Video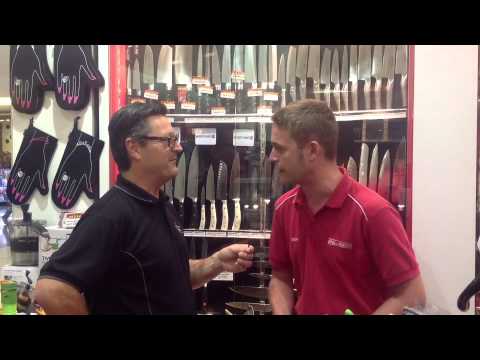 play
Top 5 tips on how to choose a knife
Meet Shane Nipperess from King of Knives Chermside and Maroochydore talking about his 5 tips on how to choose a knife.
Latest News
Another great review in the September edition of the Australian Shooter Magazine.
By Media Officer Rachael Andrews
In the world of knives, as in the world of cars and music systems - in fact for almost every type of product - you have a stunning array of choice, all the way from cheap and cheerful to the pinnacle of art and design.
Do a search on the internet on knife myths and you come up with a huge amount of information, much of it a little contradictory.
Product Reviews
Luke & all, Received the sharpener and straight into action. It is the answer to having a knife sharp. Congratulations on an excellent product. Regards, Mark Brockhurst - Mark
Luke & all, Received the sharpener and straight into action. It is the answer to having a knife sharp. Congratulations on an excellent product. Regards, Mark Brockhurst - Mark
view all reviews
In The Press
| Publication Title | Model | Date | |
| --- | --- | --- | --- |
| Australian Shooter Magazine KE-3000 Kit Review Sept 2014 | 103, 107 | Sep 2014 | View |
| Australian Meat News - March 14 | 102, 202, 203, 205, 206, 207, 201, 204, 106, 101, 103, 107 | Mar 2014 | View |
| Diesel & Dust Mag - KE 280 review Nov 13 | 106, 101 | Nov 2013 | View |
| Sporting Shooter - 198 review - Sept 2013 | 102 | Aug 2013 | View |
| FHM Knife Mag Review | 300, 301, 302, 303, 304, 305, 306, 401, 402, 403, 404, 405, 501, 502, 503, 504, 601, 607, 606, 505, 406 | Jul 2013 | View |
view all publications