Knives & Knife Sharpeners
Total Knife Care is proud to supply the best electric and professional knife sharpeners in Australia. We are the Australian and New Zealand Importer and Distributor for the Nirey Electric Knife Sharpener range and I.O.Shen Mastergrade Chef's Knives.
Total Knife Care was born as a result of a frustrated amateur chef, trying to find an effective knife sharpening system for all kitchen knives in Australia.
Since its inception, Total Knife Care has become an industry-­‐leader. We have supplied Nirey Electric Knife Sharpeners to every Coles Butcher in Australia and continue to supply to all new Coles stores. Additionally, we are a top supplier of Jamie Oliver's preferred knife, the I.O.Shen.
Now with over 15 years experience, Total Knife Care has grown into a trusted brand throughout Australia and New Zealand, with 150 resellers of our imported products.
The success of Total Knife Care demonstrates that our amateur chef was not the only one searching for an effective knife sharpening system. It is a fact that most kitchens contain a selection of knives that have been accumulated over years. These knives lay in drawers — blunt, unusable and unloved! Whether you are a professional or home cook, a sharpened knife is an essential tool.
Total Knife Care believes that before buying an expensive new knife, you should look at your sharpening method. This ensures that you will be aware of when and how to sharpen your knife for the most effective use.
To give our customers a guide on the best use of knives and sharpeners, we have developed a range of useful tools. Take your time to view our informative videos; check out our quality products for the home, professional kitchen or hunting and fishing; finally, read our latest updates on The Grind.
Alternatively, find out more about Total Knife Care.
Latest Video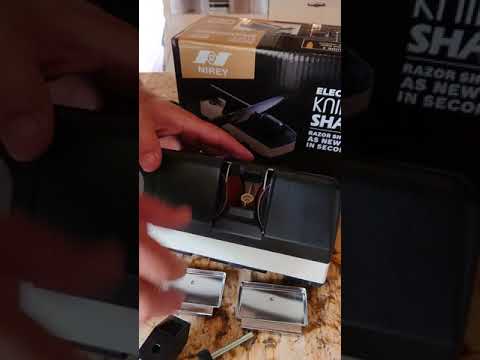 play
Nirey KE-500 Training Video
A quick "how to" on the ultimate new Nirey Sharpener. The new Nirey KE-500 Sharpener ticks all the boxes.
Latest News
One man's meat is another man's poison, as the saying goes.
Quietly, right around the globe, scientists are seeing if they can make fake meat that people would actually want to eat. 'Why?' I hear you ask. Well, there are lots of reasons.
There's a theory in the world of journalism (and PR) that there are only three things that drive the news - tragedy, controversy and quirkiness. In that order.
Product Reviews
Quite happy with my purchase. Am now practising on correct use of unit. Purchase was promptly dispatched. Now looking forward to sharp knives. Thanks. - andy
This is my second 3000. My first one died due to my negligence in not going to YouTube to learn how to change belts. Instead I used a Screwdriver and totally dismantled the machine. I also damaged the mother board. I sent it to the boys in Brisbane and they sold me a new machine at a greatly reduced price. Top marks for after sales service.This is my second 3000. My first one died due to my negligence in not going to YouTube to learn how to change belts. Instead I used a Screwdriver and totally dismantled the machine. I also damaged the mother board. I sent it ... - Ken
view all reviews
In The Press
| Publication Title | Model | Date | |
| --- | --- | --- | --- |
| Fishing World - 4 Sided Review - Nov 18 | 910 | Nov 2018 | View |
| WA Sunday Times Rave Review | 102 | May 2018 | View |
| Nirey Rave Review in Sporting Shooter Jan 2017 Issue | 102, 106, 101, 103, 107 | Jan 2017 | View |
| Caravan & Motor-Home Nirey KE-198 Sharpener Review - Dec 2014 | 102 | Dec 2014 | View |
| Australian Shooter Magazine Nirey KE-3000 Kit Review Sept 2014 | 103, 107 | Dec 2014 | View |
view all publications